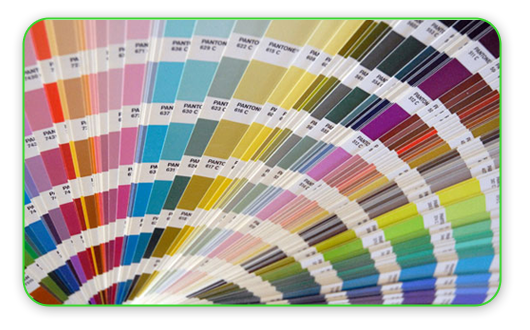 Art/Design Services
mrEmblem Inc. offers in-house professional design services and consulting to help you find the perfect promotional, professional, event or spirit items you need.
Our professional design team will work with you to identify what items and designs will work best for your needs. Often, ordering items without talking with a professional can lead to promotional items that look unprofessional or have printing that is unreadable. Avoid any ordering problems by working with mrEmblem of Oregon. Send us your logo, email our designer, call us to find out more about our services.
Creative Strategy
Our strong marketing background, paired with our years of promotional experience, enables us to provide clear, concise, creative strategies that focus on each client's unique needs. Once we know what your specific requirements are, we'll provide you with creative concepts that are fresh, exciting, and original.
Design Services available include:
Artwork Design
Design and Product Consultation
Promotional consulting
Event promotional item coordination
Project management
In-House staff available for consultation
Artwork - Requirements & Guidelines
Acceptable File Formats
(.cdr) Corel Draw Version 16 VECTOR ART
(.eps) Encapsulated Post Script VECTOR ART
(.pdf) Portable Document Format VECTOR ART (file can be saved as bitmap - NOT recommended)
(.ai) Adobe Illustrator CC 14 VECTOR ART
(.jpg) JPEG only as a last resort BITMAP ART
* PPC compatible .eps, .ai or .cdr format must have all fonts converted to curves/outlines.
Artwork File Considerations
Resolution: Artwork should be produced in vector format. If bitmapped or (pixelated) replicating art cannot be guaranteed.
Vector vs. Bitmap: Vector based artwork is resolution independent and can be scaled to any size without loss of detail. Bitmaps are comprised of pixels that enlarge when the image is enlarged.
Photographs
All photographs should have a minimum high quality resolution of 300 dpi for reproduction purposes. (.jpg or JPEG) Format.
DO NOT USE OR SEND PHOTOS THAT WERE POSTED ON FACEBOOK
Please send original photo files when at all possible.
Anything below 300 dpi will result in poor quality turn out.
Embroidery and Font Boards/Colors
We have a variety of Fonts to choose from and we accept any True Type Fonts for Custom Decoration.
If we don't have it or you can't provide the name or the font file we will do our best to match accordingly.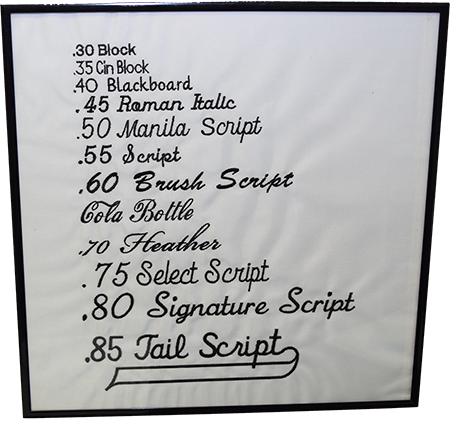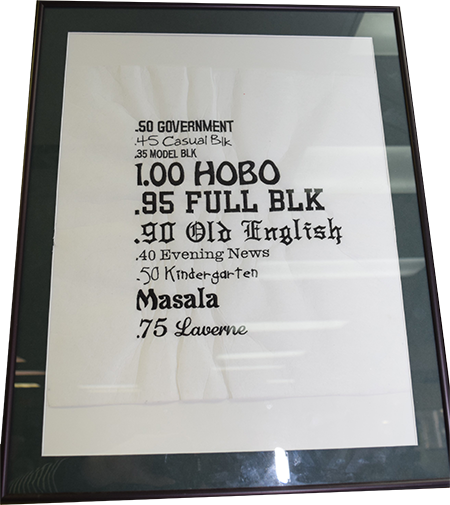 Heat Seal Fonts
Popular ones listed below with others available upon request, but not guaranteed.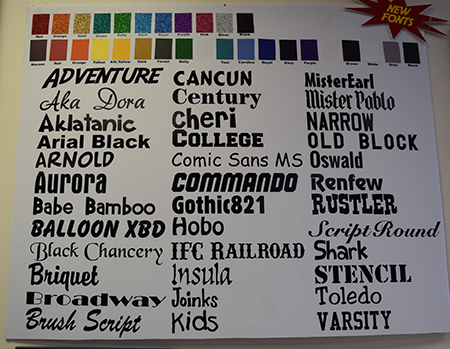 Hours of Operation
Monday – Friday: 9:00am – 6:00pm
Saturday (Aug – Dec): 10:00am – 2:00pm
*Saturday & Sunday: Closed
Available by Appointment
*due to Covid-19 we will be closed on Saturday until further notice.
Contact Info
3209 Navarre Ave. Oregon, Ohio 43616
(Next to the Kroger shopping plaza)
Phone: 419-697-1888
Fax: 419-697-4226
Questions?
We'd love to help!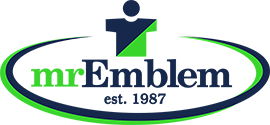 Professional look, with a Personal touch!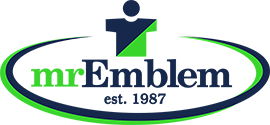 Professional look,
with a Personal touch!